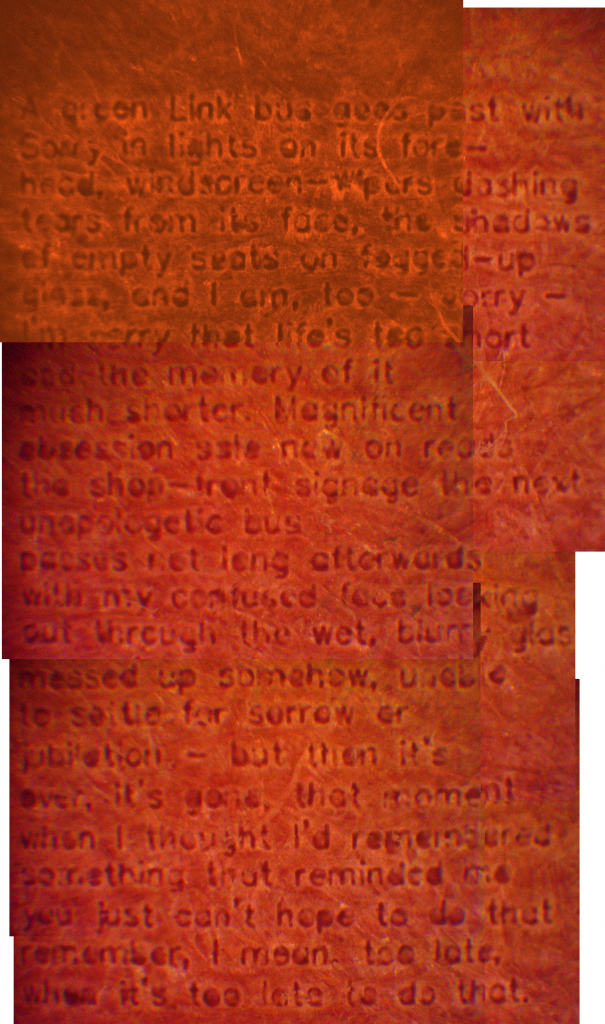 A green Link bus goes past with
Sorry in lights on its fore-
head, windscreen-wipers dashing
tears from its face, the shadows
of empty seats on fogged-up
glass, and I am, too – sorry –
I'm sorry that life's too short
and the memory of it
much shorter. Magnificent
obsession sale now on reads
the shop-front signage the next
unapologetic bus
passes not long afterwards
with my confused face looking
out through the wet, blurry glass,
messed up somehow, unable
to settle for sorrow or
jubilation – but then it's
over, it's gone, that moment
when I thought I'd remembered
something that reminded me
you just can't hope to do that –
remember, I mean, too late,
when it's too late to do that.
How did we do it?
The femtosecond laser was used to machine the cardboard. Due to the large size of the fibers we had to make this poem slightly larger than the others at 3 mm across. We initially machined the cardboard and found that someone had used it as a cutting board for some samples in the lab. So we went into town to the countdown and asked for some banana boxes for writing microscopic poetry on. We got some quite puzzled looks.