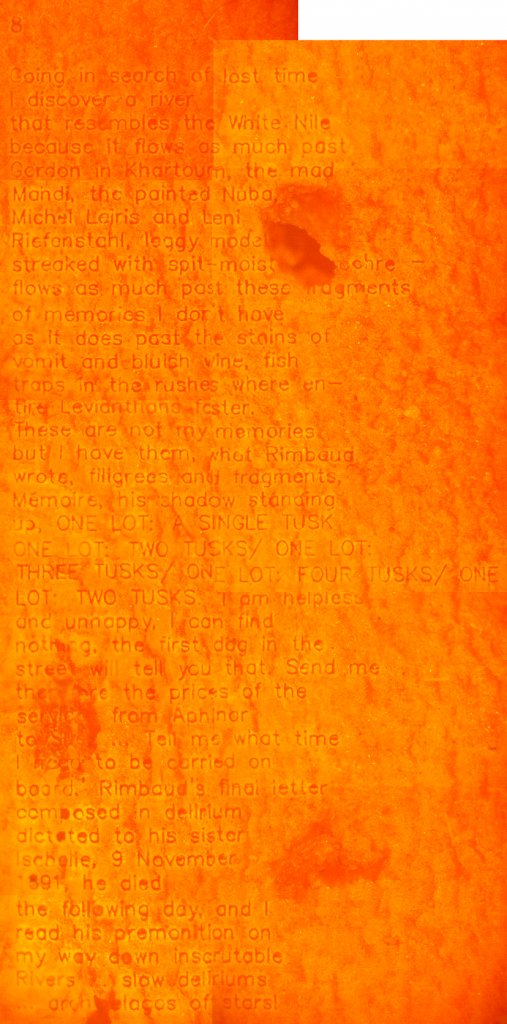 Going in search of lost time
I discover a river
that resembles the White Nile
because it flows as much past
Gordon in Khartoum, the mad
Mahdi, the painted Nuba,
Michel Leiris and Leni
Riefenstahl, leggy models
streaked with spit-moistened ochre –
flows as much past these fragments
of memories I don't have
as it does past the stains of
vomit and bluish wine, fish
traps in the rushes where en-
tire Levianthans fester.
These are not my memories
but I have them, what Rimbaud
wrote, filigrees and fragments,
Mémoire, his shadow standing
up, ONE LOT: A SINGLE TUSK
ONE LOT: TWO TUSKS/ ONE LOT:
THREE TUSKS/ ONE LOT: FOUR TUSKS/ ONE
LOT: TWO TUSKS. 'I am helpless
and unhappy, I can find
nothing, the first dog in the
street will tell you that. Send me
therefore the prices of the
services from Aphinar
to Suez … Tell me what time
I need to be carried on
board.' Rimbaud's final letter
composed in delirium
dictated to his sister
Isabelle, 9 November
1891, he died
the following day, and I
read his premonition on
my way down inscrutable
Rivers … slow deliriums
… archipelagos of stars!
How did we do it?
Femtosecond laser machining was used to inscribe the poem onto the cork. The cork has small fibers which made it difficult to see the poem if it was too small but also large craters which meant we couldn't machine it too large we settled with 3.5 mm across. The image is made up of over over 10 images under the microscope that are all stitched together.