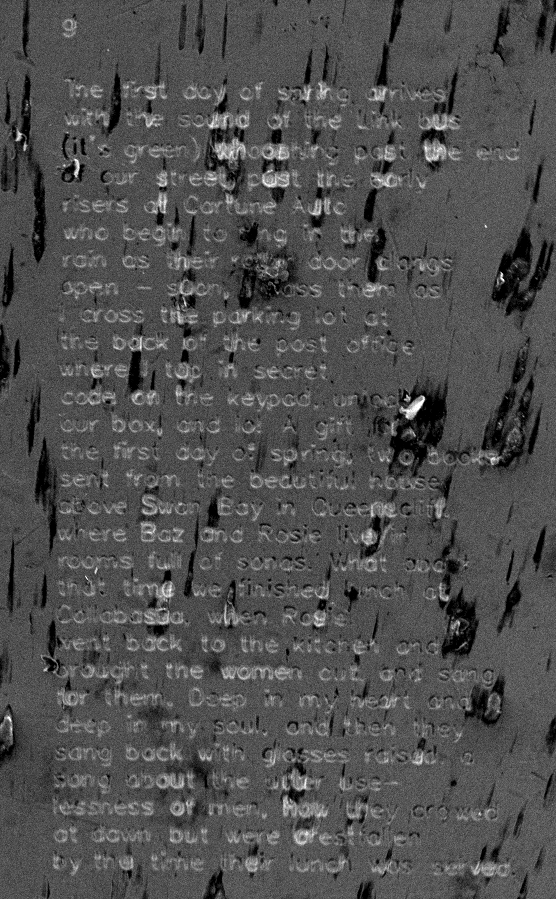 The first day of spring arrives
with the sound of the Link bus
(it's green) whooshing past the end
of our street, past the early
risers at Cartune Auto
who begin to sing in the
rain as their roller door clangs
open – soon, I pass them as
I cross the parking lot at
the back of the post office
where I tap in secret
code on the keypad, unlock
our box, and lo! A gift for
the first day of spring, two books
sent from the beautiful house
above Swan Bay in Queenscliff,
where Baz and Rosie live in
rooms full of songs. What about
that time we finished lunch at
Collabassa, when Rosie
went back to the kitchen and
brought the women out, and sang
for them, Deep in my heart and
deep in my soul, and then they
sang back with glasses raised, a
song about the utter use-
lessness of men, how they crowed
at dawn but were crestfallen
by the time their lunch was served.
How did we do it?
We wanted to go really small with the metal as the femtosecond laser can machine metal very easily. We masked the beam and magnified it down to a microscopic spot and managed to get the whole poem down to 0.6 mm across. That makes each letter around ~10 microns across about a tenth of the width of your hair. We had to use an electron microscope to be able to view the poem.